Nitrate removal from small community water systems (Fall 2017 - Present)
Motivation
Nitrate is a common contaminant in drinking water sources, such as ground and surface water supplies. Concentrations are typically highest near urban and agricultural runoff and industrial and municipal wastewaters. Consumption of nitrate contaminated groundwater by infants and pregnant women is linked to causing methemoglobinemia (i.e. blue baby syndrome). To minimize these public health impacts, the US EPA has created a primary guideline of 10 mg/L as nitrogen for nitrate.
Small community water systems (CWS), which serve of less than 10,000 people, are especially vulnerable to these health challenges. These communities generally have limited access to the financial and technological resources necessary for employing physical and chemical nitrate removal methods. The development of inexpensive and low-complexity nitrate removal technologies for small CWS is crucial for providing potable water to these spaces.
Our research harnesses natural biological processes ubiquitous throughout the planet. This is a promising approach for creating affordable and low-maintenance technologies for small CWS. We are examining the performance of sulfur-bearing minerals to mediate biological nitrate removal. Previous research has found success in employing specific sulfur-bearing minerals for treating nitrate contaminated wastewater. Therefore, we are interested in assessing and comparing the performance of these minerals to promote nitrate removal from drinking water supplies. Furthermore, these minerals are abundant and widespread and can potentially be easily acquired for application in engineered systems.
Interdisciplinary component of our research
Our research also seeks to understand the underlying biological mechanisms that promote nitrate removal using sulfur-bearing minerals. We are combining principles of environmental engineering with bioinformatics to acquire knowledge on these mechanisms. I am currently working with Dr. Emmanuel Talla at the French National Center for Scientific Research to examine microbial diversity and abundance in samples collected from engineered systems containing sulfur-bearing minerals. Our objective is to evaluate microbial community evolution and characterize the population during peak nitrate removal performance. We hope to apply the results from this study to refine the design of our engineered systems.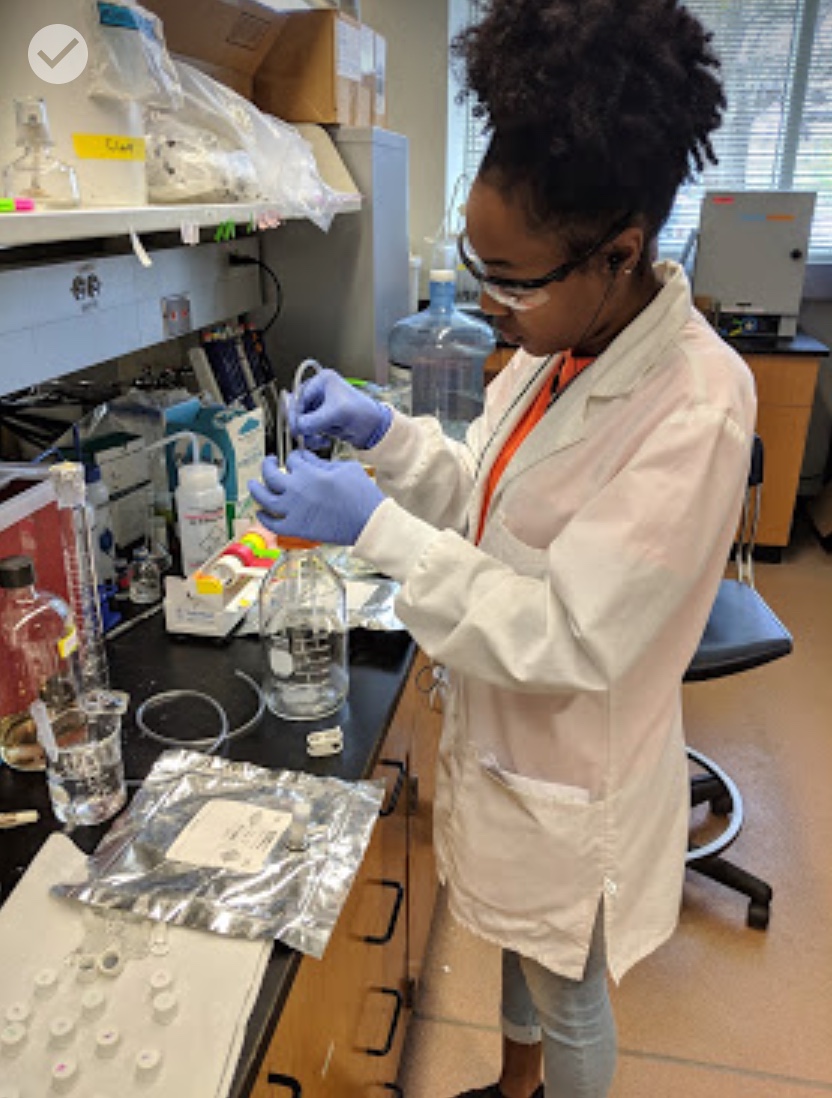 Our research engages biotechnology students from the Hillsborough Community College located in Brandon, Florida. Students have the opportunity to gain hands-on and cross-disciplinary research experience. At the end of their internship experience, students can:
Develop experimental protocols

Perform analytical water quality measurements using standard methods

Operate and maintain ion chromatography instruments to measure specific anion and cation chemical species

Apply molecular biology methods (e.g., DNA extraction, polymerase chain reactions, gel electrophoresis)

Process and interpret data

Problem solve and troubleshoot

Provide clear and concise oral deliverables during weekly group meetings

Work collaboratively with other team members

Present research findings at local and national conferences